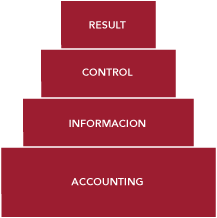 Accountant advising
From the simplest level of official accountancy, to the implementation and control of an analytic and exploitation accountancy, which allows you to obtain real and constant information about your business progress.
With our help you will be able to get a clear vision of your business progress supplemented by all our advising and consultancy services.
We can adjust to your programs or advise you about which one adapts better to your requirements.
-
Our solutions involve an important cost saving.
-