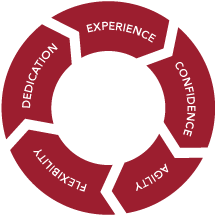 About Us
Fargas is more than a brand. Fargas is a story, a story that started in 1983.
During that year, the multidisciplinary group Fargas took its first steps and started serving enterprises just like yours. It was, nevertheless, a complex and convulse time during which the most important events in the Contemporary History ocurred. Furthermore, during those years our tax and social-labour system was born. As you can see, we have been here "from the beginning" and that gives us a point of view, a perspective and a knowledge that result in a better service for our clients.
Our firm is a second-generation family business with a strong entrepreneurial approach who believes in the experience and the continuous training of its human resources. We provide a team of competent and committed professionals which work to offer you the peace of mind you deserve.
More than 30 years of experience in the sector, during which we have been working hard day by day in order to fulfill our clients' expectations.
We love challenges. Bring your own challenge to us and see how given enough imagination, knowledge and experience, everything is possible.
We are different:
Stable and professional team.
An approach towards the achievement.
Flexibility and adaptability. Forget everything, we pave your way.
Intensive use of IT (Information Technologies):

Our own enterprise resource planning software.
Immediate and automated communication of the actions.
o Our free newsletter that keeps you updated with mailshots, news and interesting studies.
In-house staff for the development of the ITs.
-
Come to meet us and discover what we can do for your enterprise
-